Why Fishing Tackle
All fishermen love to fish. Right? Wrong! All fisherman love to catch fish. The feeling of getting out on the water where timing is everything. Good timing combined with the knowledge of the prey and their environment. Using that knowledge to enable to select the right equipment like the rod, the reel, the line, and most importantly, the lure. Then, with all this thought out, the lure must be presented in just the right way, again,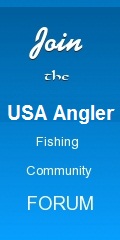 at the right time. Then maybe, just maybe, there will be a strike. You've got use your physical abilities to land your prey. Once this is accomplished, then yes, a fishermen loves to fish.
One the other hand. Fisherman do not enjoy the struggle of matching the equipment if they are unable to locate the proper equipment they need for the job. We've all been there! Why, oh why, did I not bring the tackle box with exactly the lure I need right now?
This is often the case. Not only on the water, but also in preparation. You've stopped at every store. Searched the Internet until your eyeballs are bouncing like two red and white bobbers on a rippling lake.
Well, that is the reason we developed this website Yes, we too are frustrated in trying to locate our favorite tackle. Sometimes it seems that maybe the manufacturers are hiding their products from us just to make us more frustrated.
So browse around the website hopefully, you'll find what you're looking for. If you can not find what you're looking for, post it to the Tackle Locator at USAAngler.com Fishing Forum. We check it and add to this website when we see an update from someone.
-- ScreamingReels to all.
tackle STores online
This guide is to help you find online tackle store from which you can make purchases.
Fishing forums online
This guide is to help you locate online fishing communities that may assist you in your search.